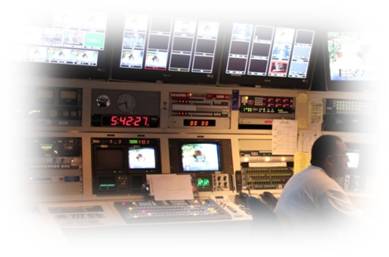 Automatically Transcodes
and
Transfers Material
from
Media Delivery Services

Manual and Automatic Operation
Monitors content delivery from media delivery servers
Transfers content from the media delivery servers to the play-to-air server
Connects to and downloads content from FTP server
Controls bitrate
Down convert and cross convert
Controls audio normalization
HD/SD compatible
automatic support of re-feeds
MPEG-2, H.264, .MPEG, GFX, AVI, .MOV, AVC
Can create separate segments or transfer shows in their entirety
Modular in design, employs load balancing for larger requirements
Digital Broadcast's Conforming Engine with AutoPrep™ makes workflow a whole lot easier and faster by automatically transcoding and transferring content from media delivery services, including PitchBlue, Pathfire, DG FastChannel, to the server. It can also connect to and download content from an FTP server or watch folder.
Conforming Engine's unique AutoPrep™ application controls the program bitrate for the proper playout from the On-Air Server. It also controls audio normalization to ensure the maximum on-air performance.
The workflow is virtually seamless. Conforming Engine with AutoPrep™ monitors the media delivery servers and detects when new material is received. Conforming Engine with AutoPrep™ then takes the material, conforms it to the format of the MediaFire Server and transfers it to the MediaFire, ready to air.
The Conforming Engine with AutoPrep™ handles a variety of formats including H.264, MPEG-2, .MPG, .MXF, GFX, AVI, .MOV. It is fully compatible with both HD and SD material.